Happy Holidays to all our Zip Code East Bay friends!
If you've found yourself here, chances are you've recieved our final Spread the East Bay Love mailer. Here at Zip Code East Bay, we deemed 2019 the year for spreading the love. Whether through compliments, thoughtful gestures, focusing on others or giving, we've found that acts of kindess can go a long way. No matter how big or small, kind gestures can improve motivation, increase creativity, build trust, kill a bad mood, help us live healthier lives and make us feel more connected and content. Though the year is coming to an end, our mission to spread the East Bay love continues on.
If you're looking for one final way to spread a little love and cheer before the decade ends, please consider donating to one of the very worthy causes below and use the gift tag from your last mailer to make the donation in someone else's name.
Thank you for your support of Zip Code East Bay, we are so happy to have spent the year spreading kindness, connecting and building community with you all.
Norcal Wildfire Relief Fund supports Latino-led grassroots organizations who provide rehousing support, financial aid and emergency translation for Latio & immigrant families affected by the recent Northern California fires.
B.O.S.S "Building Opportunities for Self Sufficiency" is a non-profit organization in Berkeley. They are dedicated to helping homeless, poor, and disabled people achieve health and self-sufficiency, and to fighting against the root causes of poverty and homelessness.
Giveback Homes is a community of realtors dedicated to building homes for deserving families throughout the world. Their goal is to create social change through the act of buying and selling homes. They currently help families who are living in unsafe and overcrowded conditions in Mexico, Nicaragua and right here in the United States.
Women's Earth Alliance's mission is to equip women with the skills and tools they need to protect our earth and strengthen communities from the inside out. They work with leaders who build up other leaders. Their vision is that the women worldwide who are safeguarding a thriving home for all of us, are never alone, and that they have what they need—not only to survive but to thrive.
Read on to find more simple acts of kindness you can try right now.
---
Here at Zip Code East Bay, we pride ourselves on kindness, connectivity, and building community. We believe that gestures of thoughtfulness and generosity, no matter how big or small, help to build a kinder world.
It turns out that kindness is infectious. Studies show that helping others may make you happier in return. And you never know, your actions may set off an even bigger chain reaction.
Below you'll find some simple but fun ideas for how you can pay it forward without the need for a lot of time or money.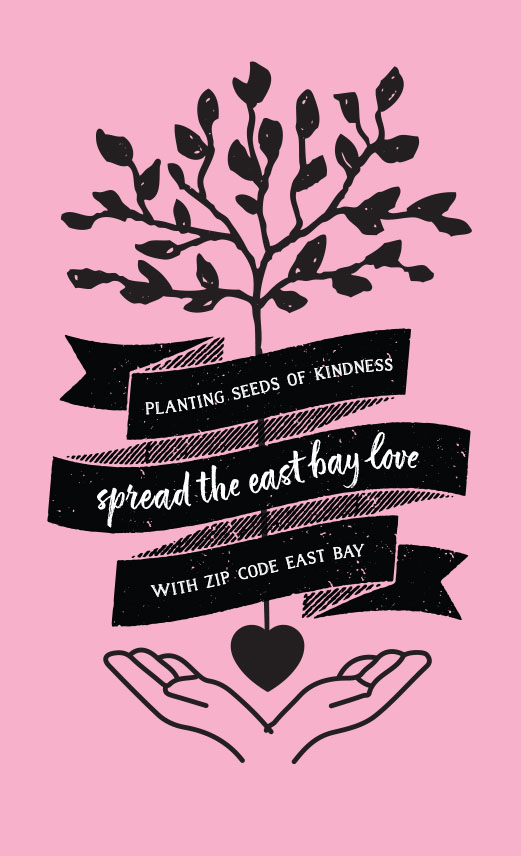 15 Random Acts of Kindness to Try Today
Express that compliment. If you're thinking something nice, go ahead and say it

In line for coffee? Pay for the person behind you

Put an extra few dollars in the tip jar
Take your neighbor's recycling bins to the curb

Make eye contact and smile at those you pass on your way home from work

Catch up with your neighbors

Pick up litter 

Call your mom, grandpa, old friend, anyone you've been thinking about lately

Send a friend a "thinking of you" postcard

Ask coworkers if they want anything when you head out for lunch or coffee

Give up the parking space you're both vying for

Leave a nice comment on someone's social media post

Pay someone's toll

Offer to take the photo the next time you see someone snapping a selfie

Share overheard compliments
Be kind to yourself too! When you hear a discouraging voice in your head, tell yourself something positive. As Roald Dahl said, "if you have good thoughts, they will shine out of your face like sunbeams and you will always look lovely."
And, if you do pay it forward, let us know how it was received or if it led to an even bigger chain reaction by dropping us a line at hello@zipcodeeastbay.com or using the hashtag #ZCEB. We love a good kindness story!

« Back to Blog Posts