We Are Looking for A Realtor Like You!
Zip Code East Bay is a purpose-driven real estate brokerage and certified B Corp located in Kensington. We help our clients navigate the home buying and selling experience with deep local market knowledge and a creative, human-centered approach. We prioritize the needs of our agents so they can prioritize their clients. That means we all succeed together while enjoying what we do.
Our Mission
With a focus on Building Community through Real Estate, we utilize green and community-driven practices to serve homeowners, buyers and sellers in the East Bay. We practice Real Estate as a Force for Good. Our commitment to being the best brokerage means doing the best for our community too. We are a brokerage partner for Giveback Homes, helping build homes for people in need in the East Bay and beyond. In 2018, we became the first real estate brokerage in California to be certified as a B Corp based on rigorous standards of social and environmental performance, accountability, and transparency.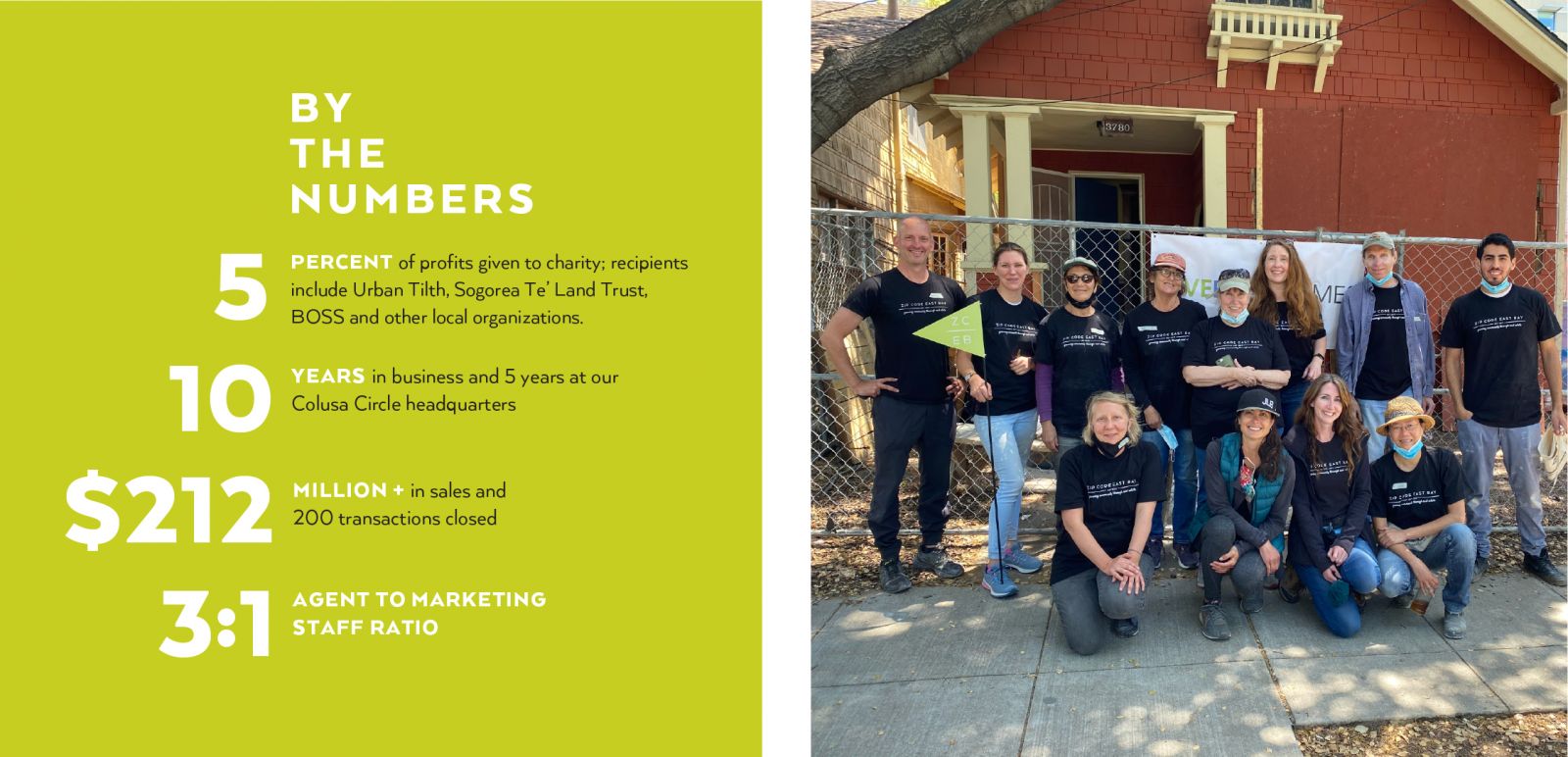 In 2020, we launched ZCEB ECO, our green listing program modeled after green building certification programs, with the ultimate goal of making every single home we sell greener and making a measurable environmental impact with each transaction. In recognition of the land we're on, we support the Sogorea Te' Land Trust, who facilitates the return of Indigenous land to Indigenous people.
Company Culture
ZCEB agents succeed at growing their business because we support their goals in a highly collaborative team environment.
At ZCEB, every agent is important and receives superior support at each step of their career. We prioritize our agents, so that they can prioritize their clients. That gives our agents the freedom to focus on what they love—meeting and helping people. By cultivating an environment for us all to grow and succeed together, we maximize our value to our clients, our agents, and the community.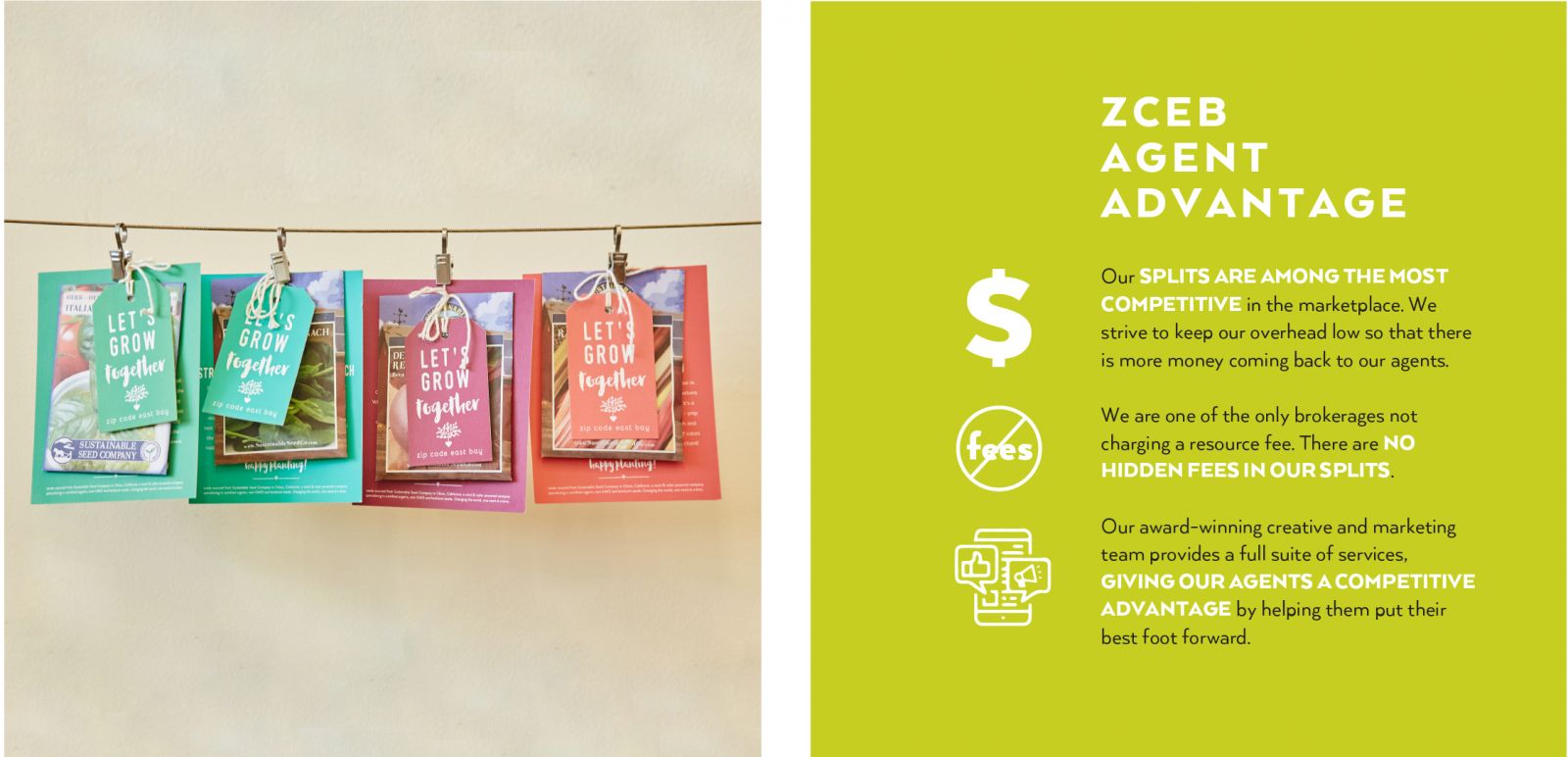 We created a brokerage structure and comprehensive support package for our agents, including:
Agent Branding, Signange & Marketing

Client Communitcation Tools

Listing and Transaction Support

Legal Counsel

Continuing Education & Training

Community Engagement

Our Commitment
Serving our community is a large part of our identity, and we love to help our beloved East Bay thrive!
We provide each agent a membership to Giveback Homes. We help agents support their favorite local charities by offering annual matching fund contributions. We sponsor each agent to obtain the NAR Green Certification, and we help each agent to become an ambassador of green living through access to community workshops, events, and marketing materials.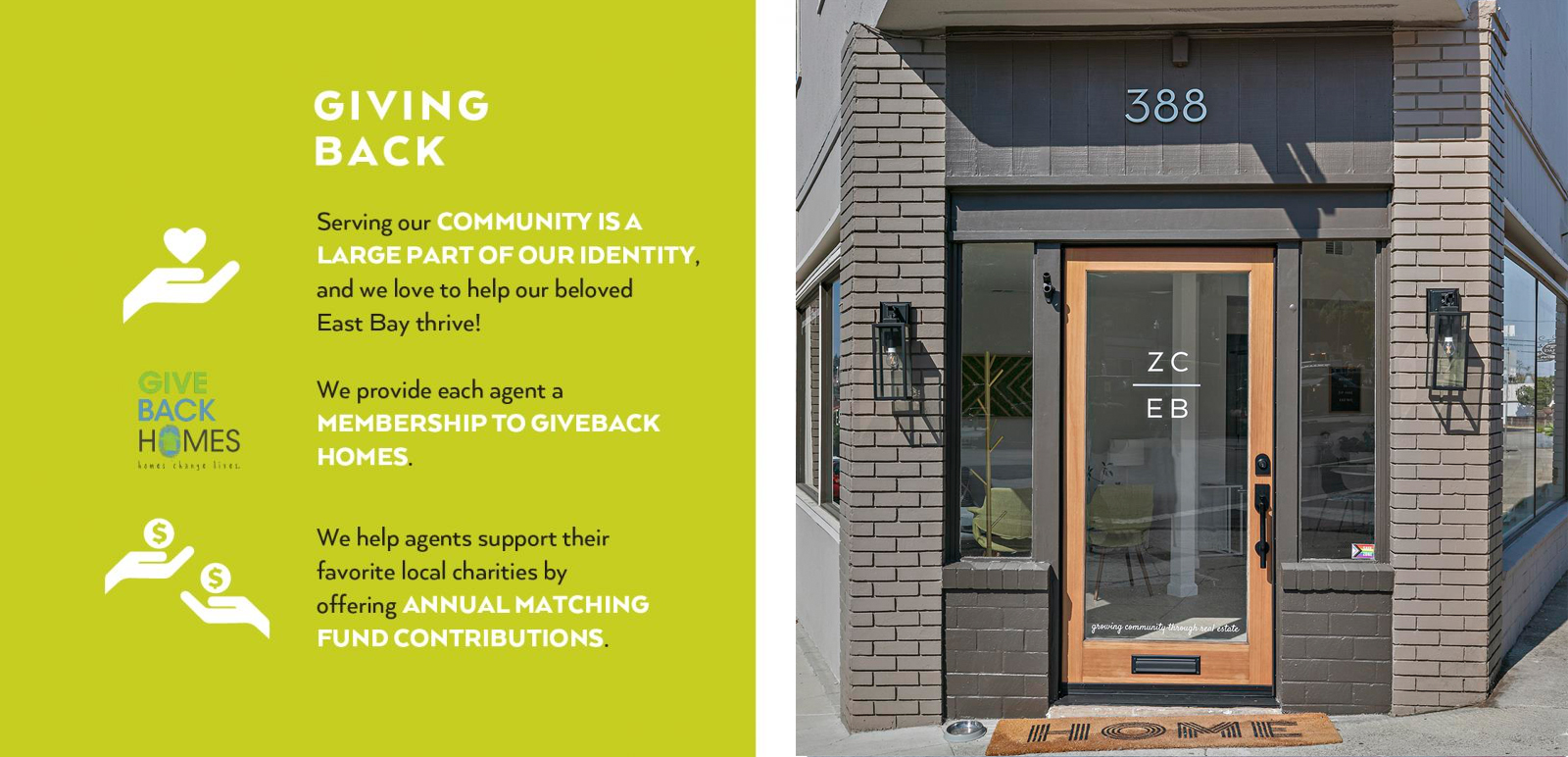 The ZCEB office is located in the heart of Kensington's Colusa Circle, where Berkeley, Albany, El Cerrito, and Kensington intersect. This location gives us easy access to many of the nearby communities that we serve.
We pride ourselves on being a great neighborhood resource with an open door. Stop by to say hi!

Want to know more about joining the ZCEB family?
Get in touch! 510.323.3669 or info@zipcodeeastbay.com